When any of the temperature-humidity, temperature-humidity-motion, or air quality Inserts are purchased, the temperature sensor in the Insert will need to be calibrated. Three scenarios exist to calibrate the temperature sensors properly.
Initial Auto-calibration
If the Insert is added to the Swidget App within the first 5 minutes of the Insert being plugged in to the host Device and the internal temperature conditions are met, the Insert will begin to auto-calibrate.
If the Insert has not been provisioned within the first 5 minutes OR the internal conditions are not met, the Insert can be calibrated for optimized temperature readings once it has reached steady state which is approximately 40 minutes after boot-up.
Ensure the Insert is paired with the Swidget App (Pairing a Wi-Fi Insert to the Swidget App) to being the calibration process. Once the Insert is paired with the App, two methods of calibration are available, automatic and manual.
Upon entering the Temperature Calibration screen in the app, the following screen will be shown indicating that the initial auto-calibration has started.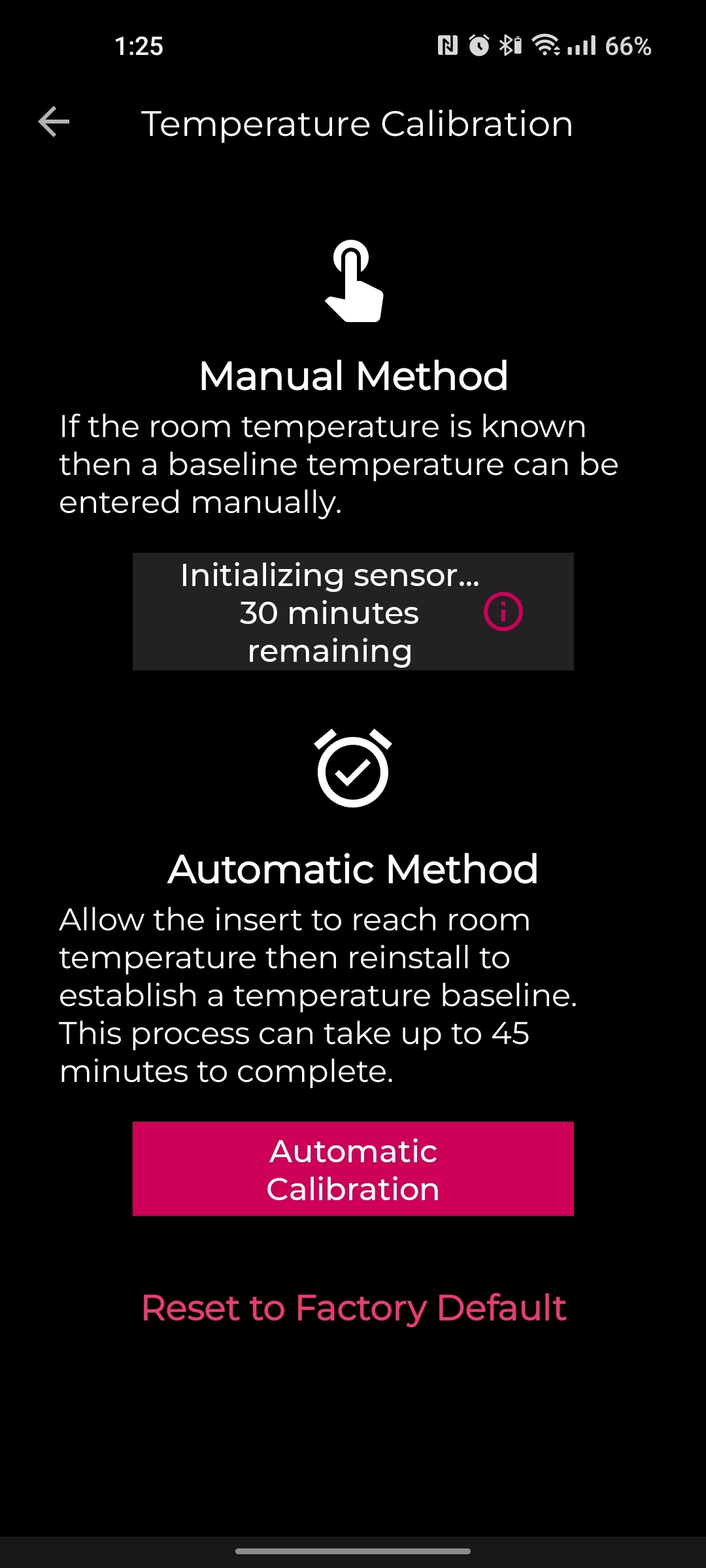 Delayed Automatic calibration
Automatic calibration requires the device to be removed after the calibration has been initiated and allowed to settle at room temperature for 45 minutes. The Insert can be reinstalled after the 45 minutes and should be allowed to reach steady state (approximately 40 minutes). For best results, perform the calibration when room temperatures are stable. Fans, vents or other sources of moving air should be kept away from Insert during the calibration sequence. Complete the following steps to initiate the automatic calibration in the Swidget App.
Long-press on the Device with the temperature Insert installed from the Home screen
Tap View Device from the pop-up menu.
Tap the blue icon next to the Insert image on the Device Details screen.
Tap the Insert Settings icon ( ), then tap Temperature Settings.

Tap the Automatic Calibration button on the Temperature Calibration screen.
Tap the Start Calibration button and follow the on-screen instructions to complete the calibration.
A message will be shown indicating that the "Calibration has been initiated." You will be notified when the Insert can be reinstalled into the Device.

Manual Calibration
Manual calibration is much faster but requires the availability of an external reference temperature sensor.
Follow steps 1 through 3 for the automatic calibration above.
Tap the Enter Room Temperature button.
Enter a temperature value from an known, accurate, temperature source and tap Update. A Success message will be shown at the top of the screen. The temperature sensor is now calibrated.

Manual Calibration is Not Available
If you navigate to the Temperature Calibration screen and find that the Enter Room Temperature button is unavailable and replaced with a timer, this indicates that the Initial Auto-calibration has begun. You will need to wait until the temperature sensor has initialized before any further calibration steps can be taken. This will take approximately 40 minutes.